Live maggot retrieved inside the body of singer Harrysong (Video)
Nigerian singer, Harrysong has taken to social media to share his testimony after a live maggot was removed from his back when he went to Uganda to perform.
According to Harrysong, he took antibiotic after he noticed a boil on his back, but it didn't clear off. However, the boil later came with severe pains which he couldn't bear and he had to seek for medical help.
Read his narration below;
"This year my team & I are winning it all & no hater can stop us. I fell ill as soon as I arrived Uganda to shoot #JourneyVideo, we thought it was a boil on my back & I was given antibiotics but it didn't get better.
On the morning of my video shoot the pain became unbearable & the hotel had to call in a doctor while my manager @afriquechique started praying.
They performed a minor surgery on me that morning & they brought out a living maggot which had created a hole deep in my back. How did it get there Scroll to see full video. THANK GOD FOR VICTORY"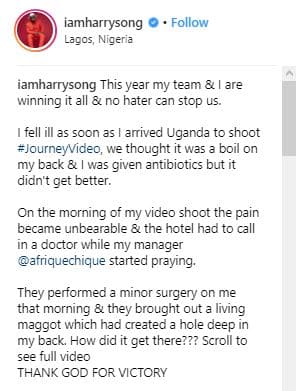 Watch the video below;