John Dumelo Vows To Force His Son Wear The Same Oversized Suit He Was Forced To Wear As A Child (Photo)
Ghanaian actor, John Dumelo has shared a throwback picture which shows him wearing an oversized suit as a kid. According to the actor, he was forced to wear the suit by his father.
Sharing the throwback picture on Instagram, John Dumelo vowed to make his own son wear the same suit, probably to make the kid experienced what he went through the day he took the picture in the suit.
He wrote:
"I SWEAR my son @johnd_jnr will wear this same suit just as my dad forced me to….#Johnylonghands #thesuitworemeinstead#temacommunity6 #tobecontinuedtomorrow"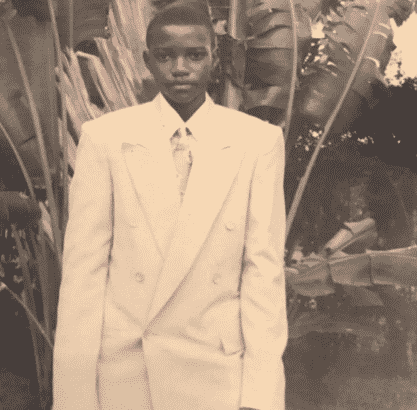 Recall that John Dumelo welcomed his son last year few months after he got married to his wife. He took to social media to express his joy at the arrival of the baby boy.
"John Jnr @johnd_jnr I'm glad you have finally arrived. It's been months, weeks, days and hours of waiting…..You look just like we imagined. Infectious smile, bright eyes, curly hair and chocolate skin.
Before I get all emotional and write a whole book, lemme let you have these few words to guide you.
You can do anything you want and be whoever you want to be just like how my dad allowed me to explore….
Never give up. Always aspire to be better and do better than before.
Be a beacon of kindness and truth in this world."